PEMANFAATAN LADA HITAM (Piper nigrum Linn) SEBAGAI SUMBER FEED ADDTIVE DALAM PAKAN AYAM PETELUR
Jacqueline Laihad

Fakultas Peternakan, Universitas Sam Ratulangi, Manado, Indonesia

Jein Rini Leke

Fakultas Peternakan, Universitas Sam Ratulangi, Manado, Indonesia

Hetty Wungow

Fakultas Peternakan, Universitas Sam Ratulangi, Manado, Indonesia

Hengky Kiroh

Fakultas Peternakan, Universitas Sam Ratulangi, Manado, Indonesia

Nontje Kumayas

Fakultas Peternakan, Universitas Sam Ratulangi, Manado, Indonesia
Keywords:
lada hitam, feed addtive, ayam petelur
Abstract
Penelitian ini bertujuan mengetahui pemanfaatan lada Hitam (Piper nigrum L.) sebagai sumber feed addtive dalam pakan ayam petelur. Lada hitam sebagai ramuan atau obat. Lada hitam (Piper nigrum L.) mengandung glutation peroksidase dan glukosa-6-fosfat dehidrogenase, telah ditunjukkan bahwa piperin dapat meningkatkan penyerapan selenium, vit. B kompleks, beta karoten dan kurkumin. Materi dan metode bahan biji lada hitam di keringkan sinar matahari, digiling menjadi tepung lada hitam. Tepung lada hitam dianalisis proksimat dan energi bruto.  Hasil analisis lada hitam yaitu   protein kasar 12,60 %, lemak kasar 7,83 %, serat kasar 16,20 % dan energi bruto 4182,12 (Kcal/kg). Dapat disimpulkan bahwa lada hitam sebagai feed addtive dapat digunakan dalam pakan ayam petelur.
References
AOAC. 2005. Official methods of analysis of the Association of Analytical Chemist. Virginia USA : Association of Official Analytical Chemist, Inc.
El-Deek, A. A., M. A. Al-Harthi, Y. A. Attia, M. DanHannfy-Maysa. 2002. Effect of Anise (Pimpinella anisum), Ginger (Zingiber of-ficinale roscoe) and Fennel (Foeniculum vulgare) and their mixture on performance of broilers. Arch. Geflu ̈gelk, 67 (2), 92 – 96.
El-Husseiny, O., S. M. Shalash, and H. M. Azouz. 2002. Respone of Broiler Performance to Diets Containing Hot Papper and /or Fenugreek at Different Metabolzable Energy Levels. Egyption Poutry Scinece.22:387-406.
Fathul, F., S. Tantalo, Liman, dan N. Purwaningsih. 2013. Pengetahuan Pakan Dan Formulasi Ransum. Universitas Lampung. Bandar Lampung.
Gill, C. 1999. Herbs and Plant Extracts as Growt Henhancers. Feed international, 4: 20-23
Hassan, M. S. H., S. M. Abo Taleb, M. Wakwak, and B. A. Yousef. 2007. Productive, Physiological and Immunological Effects of Using Some Natural Feed Additives in Japanese Quail Diets. Egyptian Poultry Sains, J. 27(11): 557-588.
Kassie, G. A. M., M. A.M. Al-Nasrawi, S. J. Ajeena. 2011. Use of Black Pepper (Piper nigrum) as Feed Additive in Broilers Diet. Research opinions in Animal & Veterinary Sciences.1(3);169-173.
Karthikeyan, J., and P. Rani. 2003. Enzymatic and Non-Enzymatic Antioksidants in Selected Piper Species. India J Exp Biol, 41 :135–140
Khalaf, A. N., A. K. Shakya, A. Al-Othman, Z. El-Agbar, and H. Farah. 2008. Oxidant Activity of Some Common Plants. Turkish Jurnal Biologi, 32: 51-55
Mohan, B., R. Kardirvel, A. Natarjan. and M. Bhaskaran. 1996. Effect of Probiotic Supplementation Ongrowth, Nitrogen Utilization and Serum Cholesterol in Broilers. British Poultry Science, 37: 395-401
Moorthy, M., S. Ravikumar, K. Viswanathan, dan S. C. Edwin. 2009. Ginger, Pepper and Curry Leaf Powder as Feed Additives in Broiler Diet. International Journal of Poultry Science, 8: 779-782.
Nalini, N., Y. Manju, and V. Menon. 2006. Effect of Spices on Lipid Metabolism in 1,2-dimethy-lhydrazine–induced rat colon carcinogenesis. Journal of Medicinal Food, 9:237-45.
Sudarmadji, S., B. Haryono dan Suhardi. 1997. Prosedur Analisa Untuk Bahan Makanan dan Pertanian. Penerbit Liberty. Yogyakarta.
Turner, J. 2004. Black pepper and White pepper. http://en,wikipedia;org/wiki/Black_pepper.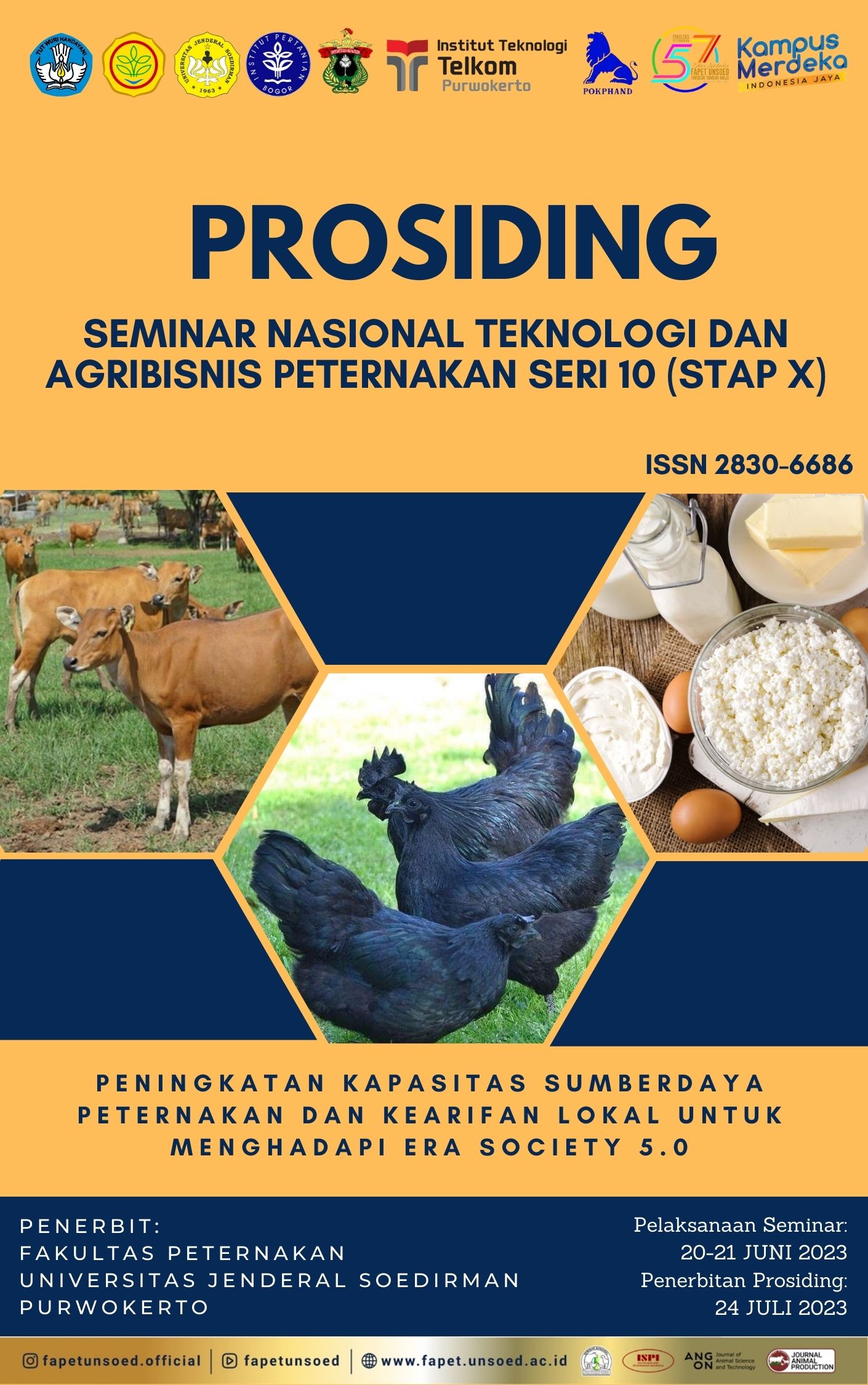 How to Cite
Laihad, J., Leke, J., Wungow, H., Kiroh, H., & Kumayas, N. (2022). PEMANFAATAN LADA HITAM (Piper nigrum Linn) SEBAGAI SUMBER FEED ADDTIVE DALAM PAKAN AYAM PETELUR. PROSIDING SEMINAR NASIONAL TEKNOLOGI AGRIBISNIS PETERNAKAN (STAP), 10, 495-498. Retrieved from https://jnp.fapet.unsoed.ac.id/index.php/psv/article/view/2310