KANDUNGAN PROTEIN TELUR TERHADAP PENURUNAN STUNTING
Jein Rinny Leke

Fakultas Peternakan, Universitas Sam Ratulangi, Manado, Indonesia

Hengky Kiroh

Fakultas Peternakan, Universitas Sam Ratulangi, Manado, Indonesia

Ratna Siahaan

Fakultas Matematika dan Ilmu Pengetahuan Alam, Universitas Sam Ratulangi, Manado, Indonesia
Keywords:
telur ayam, stunting
Abstract
Penelitian ini bertujuan untuk mengetahui kandungan protein telur terhadap penurunan stunting. Stunting merupakan tanda penting dari malnutrisi kronis pada awal kehidupan dengan lebih besar risiko infeksi dan dengan banyak efek jangka panjang, termasuk kebutuhan akan pekerjaan fisik. Stunting adalah masalah bagi bangsa Indonesia untuk menghasilkan generasi yang berdaya saing global. Gizi buruk terjadi pada semua kelompok umur disebabkan oleh kekurangan gizi. Kelompok rawan gizi dan rawan penyakit terjadi kebanyakan anak anak balita. Materi dan metode: analisis protein telur menggunakan proksimat analisis. Hasil analisa telur kandungan protein putih telur via pakan ayam petelur yaitu R1 11,29%, R2 11,46%, R3 11,50% dan R4 11,15%  dan kandungan protein putih dan kuning telur menggunakan via pakan yaitu R1 17,67 %,R2 17,03 %, R3 17,55% dan R4 18,47%. Kandungan protein putih telur menggunakan air minum bentuk (juice) ayam petelur R0 11,93%, R1 11,30%, R2 11,43% ,R3 10,40% dan R4 12,18%. Kandungan protein putih dan kuning telur menggunakan air minum bentuk (juice) ayam petelur R0 19,41%, R1 19,03%, R2 16,68%, R3 16,88% dan R4 20,18%. Simpulan: Telur mengandung protein baik putih dan kuning telur yang digunakan sebagai bahan pangan bagi peningkatan gizi anak stunting.
References
AOAC. 2005. Official Methods of Analysis. 15th Ed. Assosiation of Official Analytical Chemist, Washington DC.
Bolton. 2019. Animal Sourced Foods (ASF), Evidence on Stunting and Programmes to Increase Consumption Brighton: Institute of Development Studies.
Colecraft, E, GS Marquis, R Aryeetey, O Sakyi-Dawson, A Lartey, B Ahunu and E Huff-Lonergan. 2006. Constraints on the use of ani-mal source foods for young children in Ghana: A participatory rapid appraisal approach. Ecology of Food and Nutrition. 45(5): 351–377.
Drewnowski, A. 2010. The Nutrient Rich Foods Index Helps to Identify Healthy, Affordable Foods. The American Journal of Clinical Nutrition. 91: 1095S–1101S.
Iannotti, LL, CK Lutter, DA Bunn and CP Stewart. 2014. Eggs: Theuncracked Potential for Improving Maternal and Young Child Nutrition among the World's Poor. Nutrition Reviews. 72(6): 355–368.
Harahap, H dan M Soekatri. 2018. Kepadatan Tulang, Aktivitas Fisik dan Konsumsi Makanan Berhubungan Dengan Kejadian Stunting pada Anak Usia 6-12 Tahun. Gizi Indonesia. 38(1): 1-8.
Headey, D, K Hirvonen and J Hoddinott. 2018. Animal Sourced Foods and Child Stunting. American Journal of Agricultural Economics. 100(5): 1302-1319.
Jin, M and L Iannotti. 2014. Livestock Production, Animal Source Food Intake, and Young Child Growth: The role of gender for ensuring nutrition impacts. Social Science & Medicine. 105: 16–21. https://doi.org/10.1016/j.socscimed.2014.01.001.
Kurniawan, R, S Juhanda, DA Wibowo dan I Fauzi. 2014. Pembuatan Tepung Telur Menggunakan Spray Dryer dengan Nozzle Putar. Prosiding Seminar Nasional Teknik Kimia "Kejuangan". Pengembangan Teknologi Kimia untuk Pengolahan Sumber Daya Alam Indonesia, Program Studi Teknik Kimia Fakultas Teknologi Industri UPN Veteran Yogyakarta: 1-7.
Murphy, SP and LH Allen. 2003. Nutritional Importance of Animal Source Foods. The Journal of nutrition. 133(11): 3932S-3935S.
Nti, C and A Lartey. 2007. Effect of Caregiver Feeding Behaviours on Childnutritional Status in Rural Ghana. International Journal of Consumer Studies. 31(3): 303–309.
Rosha, B, A Susilowati, N Amaliah dan Y Permanasari. 2020. Penyebab Langsung dan Tidak Langsung Stunting di Lima Kelurahan di Kecamatan Bogor Tengah, Kota Bogor (Study Kualitatif Kohor Tumbuh Kembang Anak Tahun 2019). Buletin Penelitian Kesehatan. 48(3): 69-182.
Sibbald, I.R. 1976. A bioassay for true metabolizable energy in feedingstuffs. Poult. Sci. 55:303-308.
Sudargo, T and HFL Muhammad. 2018. The Effect of Additional Egg Supplementation on Vitamin and Mineral Fortification Programs on Growth, Cognitive Development and Hemoglobin in Indonesian Underweight and Stunting Children. Journal of Nutrition & Food Science. 48(5): 744-754.
Stark, H, A Omer, AW N'Diaye and CSap Amanda. 2020. The Un Oeuf study: Design, Methods and Baseline Data from a Cluster Randomised Controlled Trial to Increase Child Egg Bonsumption in Burkina Faso. Jurnal maternal and food nutrition. 17(1): 1-13.
World Health Organization [WHO]. 2015. Stunting in a nutshell.
World Health Organization. 2018. Reducing Stunting in Children: Equity Considerations for Achieving The Global Nutrition Targets 2025. WHO Library Cataloguing in Publication Data. Geneva.
Wulandari, Z. 2018. Karakteristik Lisozim dari Telur Unggas Lokal sebagai Pemanis. Disertasi. Sekolah Pascasarjana IPB. Bogor.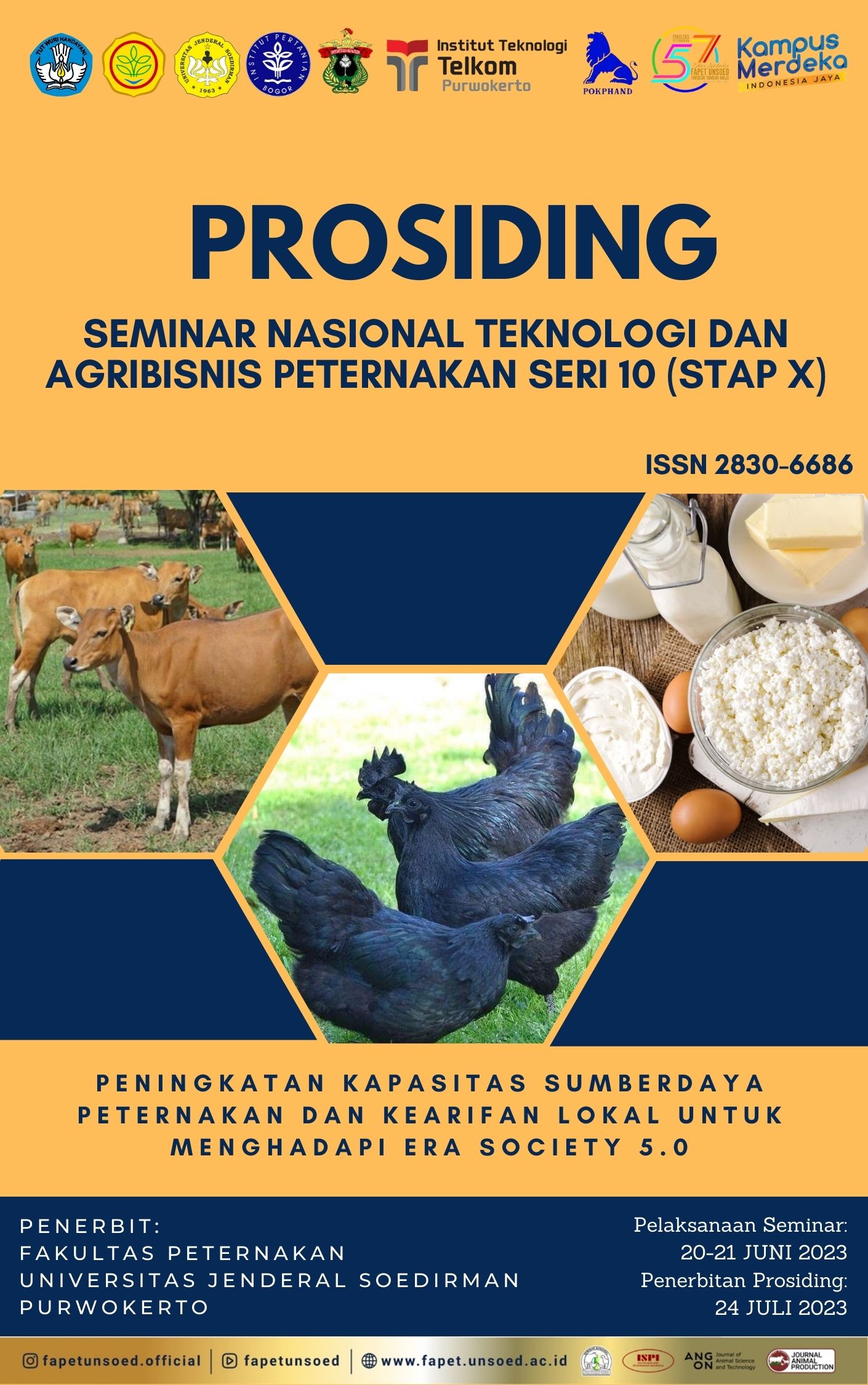 How to Cite
Leke, J., Kiroh, H., & Siahaan, R. (2023). KANDUNGAN PROTEIN TELUR TERHADAP PENURUNAN STUNTING. PROSIDING SEMINAR NASIONAL TEKNOLOGI AGRIBISNIS PETERNAKAN (STAP), 10, 223-226. Retrieved from https://jnp.fapet.unsoed.ac.id/index.php/psv/article/view/2254