TEPUNG KAYU MANIS (Cinnamomum burmanii) SEBAGAI FEED ADDITIVE DALAM PAKAN AYAM PETELUR
Florencia Nery Sompie

Fakultas Peternakan, Universitas Sam Ratulangi, Manado, Indonesia

Jein Rini Leke

Fakultas Peternakan, Universitas Sam Ratulangi, Manado, Indonesia

Jacqueline Laihad

Fakultas Peternakan, Universitas Sam Ratulangi, Manado, Indonesia

Fredy Nangoy

Fakultas Peternakan, Universitas Sam Ratulangi, Manado, Indonesia

Jet Mandey

Fakultas Peternakan, Universitas Sam Ratulangi, Manado, Indonesia
Keywords:
tepung kayu manis, pakan ayam petelur
Abstract
Penelitian ini bertujuan untuk penggunaan tepung kayu manis (Cinnamomum Burmanii) sebagai feed additive dalam pakan. Tepung kayu manis di ambil dari Kabupaten Minahasa Selatan Provinsi Sulawesi Utara. Senyawa yang terkandung MHCP (Methyl Hidroxy Chalcone Polymer) sumber flavonoid berguna sebagai antioksidan. Hasil analisa tepung kayu manis yaitu Kadar protein kasar 3,11, Lemak Kasar 0,85 %, Serat Kasar 0,85 dan Energi Bruto 4214,34 Kcal/kalori.Simpulan penggunaan tepung kayu manis sebagai feed additive dapat digunakan dalam pakan  ayam petelur.
References
Azima F, D Muchtadi, FR Zakaria, dan Priosoeryanto. 2004. Potensi Antihiperkolesterolemia Ekstrak Cassia Vera (Cinnamomum Burmanni Nees ex Blume). Jurnal Teknologi Dan Industri Pangan.9(2): 145-153.
Andy, L Agustina dan A Mujnisa. 2016. Waktu Henti Pemberian Antibiotika Zinc Bacitracin Terhadap Residunya pada Broiler. JITP. 4: 112-8.
Association of Official Analitycal Chemist (AOAC). 1995.Official Methods of Analitical Chemist. Inc. Washington DC. 1995.
Hardjono S. 2020. Kimia Minyak Atsiri. UGM Press. Yogyakarta. 4: 65-69.
Hermana, WD, I Puspitasari, KG Wiryawan dan S Suharti. (2008). Pemberian Tepung Daun Salam (Syzygium polyanthum (Wight) Walp.) dalam Ransum Sebagai Bahan Antibakteri Escherichia coli terhadap Organ Dalam Ayam Broiler. Media Peternakan Jurnal.31(1):63-70
Irmayani, H Daming, Munir, Fitriani, dan N Asikin. 2022. Pengaruh Pemberian Tepung Kayu Manis (Cinnamomum burmannii) dalam Ransum terhadap Bobot dan Persentase Karkas Itik Pedaging . Journal of Animal Husbandry. 1(1): 32-38.
Mahdi J, A Effionora dan J Djajadisastra. 2004. Pembuatan Niosom Berbasis Maltodekstrin DE 5-10 dari Pati Singkong (Manihot utilissima). Majalah Ilmu Kefarmasian, 1.(1). 10-20.
Mountzouris, KC, P Tsirtsikos, E Kalamara, S Nitsch, G Schatzmayr, and K Fegeros. 2007. Evaluation of the Efficacy of a Probiotic Containing Lactobacillus, Bifidobacterium, Enterococcus, and Pediococcus Strains in Promoting Broiler Performance and Modulating Cecal Microflora Composition and Metabolic Activities. Journal Poult. Sci. 86 (2): 309–317.
Nilesh, PN, SR Mithun, GSVP Rangabhatla, and A Mehraj. 2015.Brazilin from Caesalpinia Sappan Heartwood and its Pharmocological Activities: A review. Asia Pacific Journala of Tropical Medicine. 8(6): 421-430.
Nurhasmiati and S Purwanti. 2021. The Functions of Cinnamomum burmannii as an Antioxidant Feed Additive for Broiler Chickens: A Review . The 3rd International Conference of Animal Science and Technology IOP Conf. Series: Earth and Environmental Science 788 (2021) 012082 IOP Publishing doi:10.1088/1755-1315/788/1/012082
Sahdeo P and KT Amit. 2015. Ginger and Its Constituents: Role of Prevention and Treatment of Gastrointestinal Cancer. Gastroenterology Research and Practice. 2015: 1- 12. https://doi.org/10.1155/2015/142979.
Tien RM, Sugiyono, dan Fitriyono A. 2010.Ilmu Pengetahuan Bahan Pangan. Penerbit Alfabeta. Bandung.
Preetha A, Ajaikumar BK, Robert AN and Bharat BA.2007. Biovailability of Curcumin: Problems and Promises. Mol. Pharmaceut 4(6):807-18.
Winarti, S. 2010. Makanan Fungsional. Yogyakarta: Graha Ilmu.
Winarsi, H. 2007. Antioxy and Natural and Free Radicals ed. V. Yogyakarta: Kanisius.
Wahdaningsih S, EP Setyowati, and S Wahyuono 2011 Free radical catcher activity of fern rods (Alsophila glauca J. Sm). Traditional Medicine Magazine. 16: 156-160.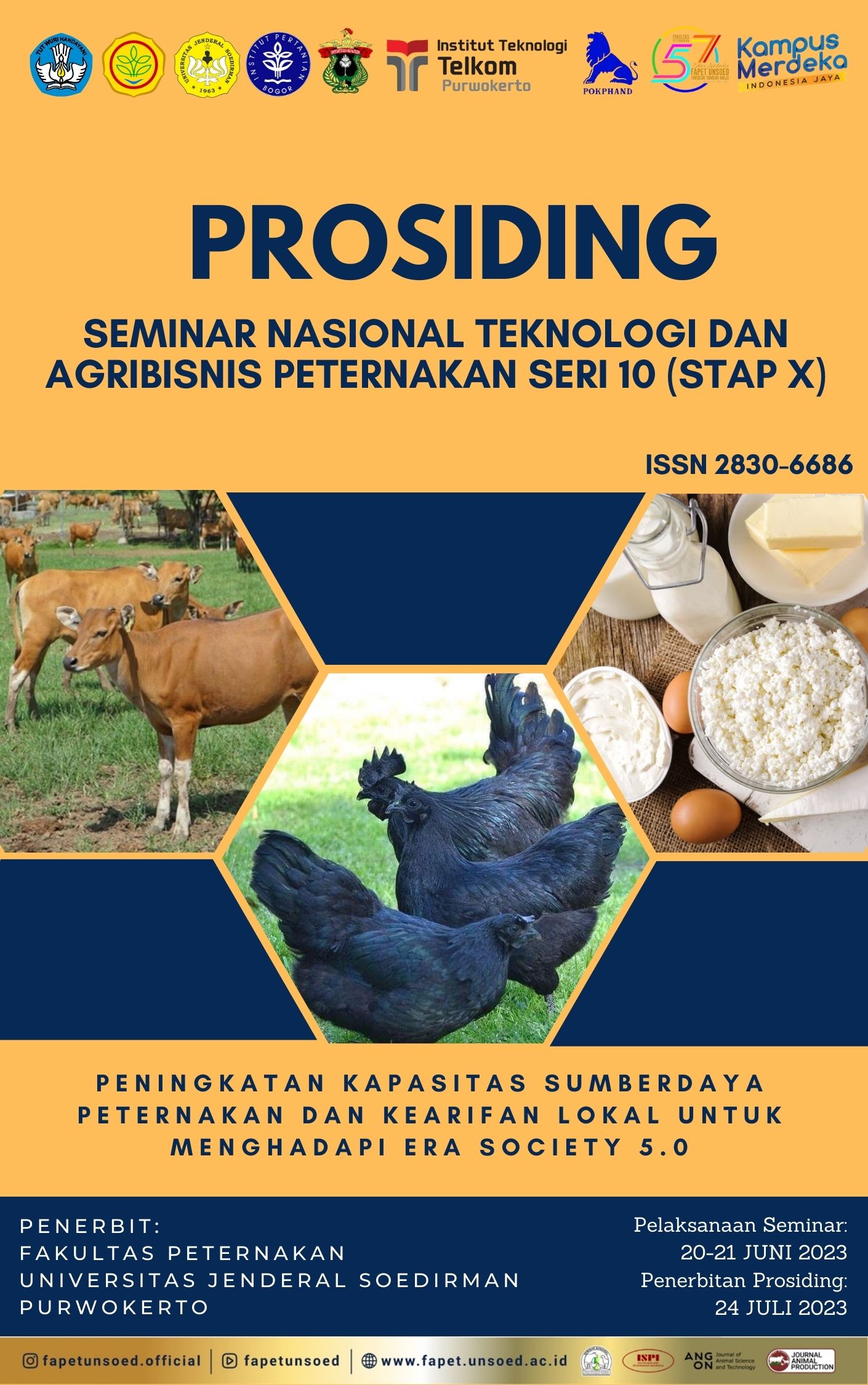 How to Cite
Sompie, F., Leke, J., Laihad, J., Nangoy, F., & Mandey, J. (2023). TEPUNG KAYU MANIS (Cinnamomum burmanii) SEBAGAI FEED ADDITIVE DALAM PAKAN AYAM PETELUR. PROSIDING SEMINAR NASIONAL TEKNOLOGI AGRIBISNIS PETERNAKAN (STAP), 10, 448-451. Retrieved from https://jnp.fapet.unsoed.ac.id/index.php/psv/article/view/2298