PROSPEK REDUKSI CH4 PADA POLA INTEGRASI SAPI SAWIT DI KABUPATEN TANJUNG JABUNG TIMUR
Hutwan Syarifuddin

Fakultas Peternakan, Universitas Jambi, Jambi, Indonesia

A Rahman Sy

Fakultas Peternakan, Universitas Jambi, Jambi, Indonesia

M Afdal

Fakultas Peternakan, Universitas Jambi, Jambi, Indonesia

Dodi Devitriano

Fakultas Peternakan, Universitas Jambi, Jambi, Indonesia
Keywords:
reduksi CH4, integrasi sapi sawit
Abstract
Penelitian telah dilakukan pada bulan Mei sampai Agustus 2022 di lahan perkebunan sawit yang menggunakan pola integrasi sapi sawit di Desa Rano Kabupaten Tanjung Jabung Timur  untuk mengetahui keterlibatan stakeholders dalam prospek  integrasi sapi sawit.  Penelitian menggunakan metode analisis prospektif partisipatif, wawancara, analisis pengaruh antar-variabel kunci, membangun skenario, dan analisis implikasi strategis dan aksi antisipatif. Hasil penelitian menunjukkan bahwa  terdapat empat variabel penggerak utama yang harus dititikberatkan dalam  pola integrase sapi sawit, yaitu jumlah populasi ternak sapi, pengetahuan peternak, sistem pemeliharaan ternak sapi, pola integrasi sapi sawit, manajemen kotoran ternak.. Penitikberatan pada keempat variabel tersebut diharapkan dapat meningkatkan jumlah populasi ternak sapi tanpa merusak tanaman kelapa sawit dan mengurangi gas CH4 yang dilepaskan kelingkungan.
References
Badan Pusat Statistik. 2022. Provinsi Jambi Dalam Angka. Jambi. ISSN: 0215-2029. 651 halaman.
Bourgeois, R., dan Jesus, F., 2004. Participatory Prospective Analysis: Exploring and Anticipating Challenges with Stakeholders. CAPSA Monograph No. 46, Bogor.
Cassandro, M., Mele, M. and Stefanon, B. 2013. Genetic Aspects of Enteric Methane Emission in Livestock Rumi- nants. Italian Journal of Animal Science, 12, 450-458.
Coates, J., Durance, P., dan Godet, M., 2010. Strategic Foresight Issue: Introduction. Technol. Forecas. Soc. Change, 77:1423-1425.
Cornwall, A and R.Jewkes. 1995. What is Participatory Research? Soc. Sci. Med. 41(12):1667-1676.
Damai, D.A, Boer, M., Marimin, Damar, A., dan Rustiadi, E., 2011. Analisis Prospektif Partisipatif dalam Pengelolaan Wilayah Pesisir Teluk Lampung. Forum Pascasarjana, 34(4): 281-296.
Damai, A,A., 2012. Sistem Perencanaan Tata Ruang Wilayah Pesisir: Studi Kasus Teluk Lampung [Disertasi] Sekolah Pasca Sarjana Institut Pertanian Bogor, Bogor.
Devitriano, D., Syafiruddin H., Jalius , Y. G. Wibowo. 2023. Inventories of Methane Emission for Enteric and Decomposition Gasses from Cattle Manure and Its Mitigation Strategies. Jurnal Presipitasi. Vol 20, No 1, 2023, Hal 210-222. e-ISSN: 2550-0023. Publisher: Media Komunikasi dan Pengembangan Teknik Lingkungan UNDIP Semarang. DOI: 10.14710/presipitasi.v20i1.210-222
Durance, P. and M.Godet. 2010. Scenario Building: Uses and abuses. Technol. Forecas. Soc. Change 77:1488-1492.
Gerber, P.J., Steinfeld, H., Henderson, B., Mottet, A., Opio, C., Dijkman, J., Falcucci, A., & Tempio, G. 2013. Tackling climate change through livestock a global assessment of emissions and mitigation opportunities. Rome, Italy: Food and Agriculture Organization of the United Nations (FAO); 2013
Godet, M. and F. Roubelat. 1996. Creating the Future: The Use and Misuse of Scenarios. Long Range Plann. 29 (2):164-171.
Gray, T. and J. Hatchard. 2008. A Complicated Relationship: Stakeholder Participation and the Ecosystem-Based Approach to Fisheries Management. Marine Policy, 32(2):158-168.
IPCC. 2007. Climate change In: Mertz B, Davidson O.R, Bosch P.R,., editors. Mitigation. Contribution of working group iii to the fourth assessment report of the intergovernmental panel on climate change. United Kingdom and New York, NY, USA: Cambridge University Press, Cambridge; 2007
Mihina, S., Kazimirova, V. and Copland, T.A. 2012. Technology for Farm Animal Husbandry. 1st Issue, Slovak Agricultural University, Nitra, 99 p
Milich, L. 1999. The role of methane in global warming: where might mitigation strategies be focused? Glob Environ Chang. 179-201.
Moscardo, G. and E.Kim. 1990, Social ScienceResearch Need for a Sustainable Coastal and Marine Tourism, CRC Reef Research Center, James Cook University, Townsville.
Opio, C., Gerber, P., Mottet, A., Falcucci, A., Tempio, G., MacLeod M., Vellinga, T., Henderson, B., & Steinfeld, H. 2013. Greenhouse gas emissions from ruminant supply chains — a global life cycle assessment. Rome, Italy: Food and Agriculture Organization of the United Nations (FAO); 2013
Putra, N., dan Hendarman, 2012, Metodologi Penelitian Kebijakan. Penerbit PT. Remaja Rosdakarya, Bandung.
Ramin, M. and Huhtanen, P. 2013. Development of Equations for Predicting Methane Emissions from Ruminants. Journal of Dairy Science, 96, 2476-2493. http://dx.doi.org/10.3168/jds.2012-6095
Rusnan, H., Ch.L. Kaunang., Tulung, Y.L.R. 2015. Analisis potensi dan strategi sapi potong dengan pola integrasi kelapa-sapi di Kabupaten Halmahera Selatan Provinsi Maluku Utara. Jurnal Zootek 35(2):187-200
Salendu, A.H.S. 2012. Perspektif pengelolaan agroekosistem kelapa-ternak sapi di Minahasa Selatan. [Disertasi]. (Malang [Indonesia]): Universitas Brawijaya.
Sugiyono, 2020, Metode Penelitian Kuantitatif, Kualitatif, dan R & D. edisi ke-2, CV Alfabeta, Bandung
https://agrotekconference.uinsgd.ac.id/prosiding/index.php/semnaspertanian/article/view/30/25
Syarifuddin H., A. Rahman Sy., & Suryono .2022. Strategi Daya Dukung Dan Mitigasi Gas Metan Pada Pengembangan Integrasi Sapi Sawit Di Kabupaten Tanjung Jabung Timur. Laporan Penelitian LPPM Universitas Jambi Tahun 2022.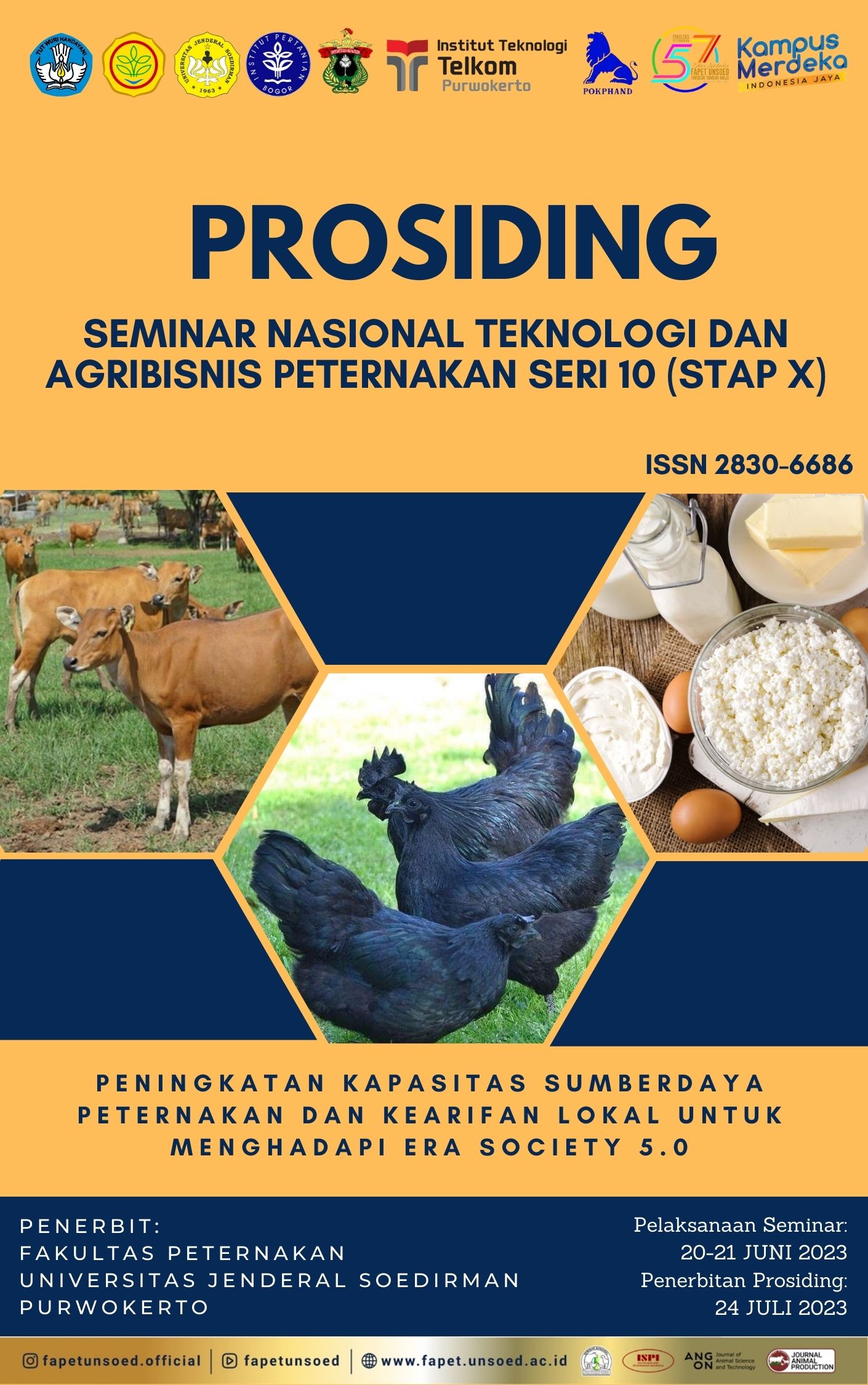 How to Cite
Syarifuddin, H., Sy, A., Afdal, M., & Devitriano, D. (2023). PROSPEK REDUKSI CH4 PADA POLA INTEGRASI SAPI SAWIT DI KABUPATEN TANJUNG JABUNG TIMUR. PROSIDING SEMINAR NASIONAL TEKNOLOGI AGRIBISNIS PETERNAKAN (STAP), 10, 422-428. Retrieved from https://jnp.fapet.unsoed.ac.id/index.php/psv/article/view/2293