DUA DEKADE SAPI LIMOUSIN DI INDONESIA: PERKEMBANGAN ESTIMASI NILAI PEMULIAAN PEJANTAN DAN INFORMASI GENOTIP TERKINI PEJANTAN SAPI LIMOUSIN DI BBIB SINGOSARI
Koko Wisnu Prihatin

Balai Besar Inseminasi Buatan Singosari, Malang, Indonesia
Keywords:
Limousin, EBV, Mstn F94L
Abstract
Limousin merupakan rumpun sapi unggul yang diintroduksi pada tahun 2001 untuk produksi semen beku dan inseminasi buatan di Indonesia. Semen beku limousin telah diinseminasikan selama dua dekade, sehingga perlu dilakukan evaluasi terhadap kualitas genetik pejantan untuk memastikan respon seleksi yang cukup baik. Evaluasi genetik dilakukan melalui Estimasi Nilai Pemuliaan (EBV) per pejantan yang diimpor pada periode 2001-2002 (31 ekor), 2009-2010 (56 ekor), dan 2017-2018 (43 ekor). Analisis statistik dilakukan melalui Sidik Ragam Satu Arah dengan koreksi Brown-Forsythe terhadap EBV sifat berat Lahir (BL), berat umur 200 hari (BS), berat umur 400 hari (BT1), berat umur 600 hari (BT2) serta berat karkas (BK) pejantan-pejantan pada pengadaan tahun 2001-2002 (P0), 2009-2010 (P1), dan 2017-2018 (P2) yang dilanjutkan dengan uji Games-Howell jika terdapat perbedaan nyata nilai EBV antar periode. Selain itu hasil genotyping mutasi Myostatin (Mstn) F94L juga disampaikan pada kajian ini. Hasil analisis menunjukkan terdapat peningkatan yang sangat nyata (P<0,01) pada parameter sifat berat umur 200 hari (BS), berat umur 400 hari (BT1), berat umur 600 hari (BT2) dan berat karkas (BK) pejantan sapi limousin periode 2017-2018 terhadap periode 2001-2002 dan 2009-2010. Namun, tidak terdapat perbedaan pada sifat berat lahir (BL) antar periode. Hasil genotyping pada pejantan sapi limousin BBIB Singosari menunjukkan komposisi kelompok genotipe homozigot mutasi Mstn F94L (AA) sebesar 90,28 % (65 ekor) berbanding 9,72% (7 ekor) kelompok genotipe heterozigot mutasi Mstn F94L (AC) dan 0 % (0 ekor) kelompok genotipe wild type (CC). Kajian ini menunjukkan BBIB Singosari sebagai penyedia semen beku telah menjalankan peran yang cukup baik dalam usaha meningkatkan produktifitas ternak potong di Indonesia.
References
Agustine, R, S Bintara, S Andarwati, MAU Muzayyanah, TSM Widi and ARS Putra. 2019. Analysis in Making Decision of Farmer to Select Bull Frozen Semen in Indonesia. Journal of Indonesian Tropical Animal Agriculture. 44(3): 323-332.
Anwar, S, I Khaerunissa, T Maulana, AS Wulandari, SD Volkandari, KW Prihatin, T Krisnawati, WPB Putra and S Said. 2023. Status of the F94L Mutation of the Myostatin Gene in Cattle Breeds in Indonesia. AIP Conference Proceedings. 2606 (1): 040015.
Anwar, S. SD Volkandari, AS Wulandari, WPB Putra, E Sophian and S Said. 2020). Detection of F94L Mutation of the MSTN Gene in Four Indonesian Local Cattle Breeds. Journal of Indonesian Tropical Animal Agriculture, 45(1): 7-14.
Astuti, F dan H Darmawan. 2021. Profil Produksi Karkas Sapi Peranakan Limousin Jantan di Kota Malang. Buana Sains, 21(1): 11-18.
BREEDPLAN. 2023. Breed Plan. Agricultural Business Research Institute. Australia. https://breedplan.une.edu.au/search-login/ and http://abri.une.edu.au/online/cgi-bin/i4.dll?1=37293431&2=2031&3=56&5=2B3C2B3C3A
Czerniawska-Piątkowska, E, G Kucharski, E Chociłowicz and B Cioch. 2014. Comparison of Organically Raised Limousin Cattle and Their Crosses with Black-And-White. Zeszyty Naukowe Uniwersytetu Przyrodniczego we Wroclawiu: Biologia i Hodowla Zwierzat. 74(603): 9-16.
Enns, RM and GB Nicoll. 2008. Genetic Change Results from Selection On an Economic Breeding Objective in Beef Cattle. Journal of Animal Science. 86(12): 3348-3357.
Esmailizadeh, AK, CDK Bottema, GS Sellick, AP Verbyla, CA Morris, NG Cullen and WS Pitchford. 2008. Effects of the Myostatin F94L Substitution on Beef Traits. Journal of Animal Science. 86(5): 1038-1046.
Graser, HU, B Tier, DJ Johnston and SA Barwick. 2005. Genetic Evaluation for The Beef Industry in Australia. Australian Journal of Experimental Agriculture. 45(8): 912-931.
Hartati, H, WBP Putra, BDP Soewandi and S Anwar. 2022. Detection of F94L Marker in Myostatin (MSTN/TaqI) Gene of Indonesian Sumba Ongole Cattle (Bos indicus). Indian Journal of Animal Sciences. 92 (9): 1068–1071.
Lines, DS, WS Pitchford, ZA Kruk and CDK Bottema. 2009. Limousin Myostatin F94L Variant Affects Semitendinosus Tenderness. Meat Science. 81(1): 126-131.
Martin, N, L Coleman, N López-Villalobos, N Schreurs, S Morris, H Blair, J McDade, P Back and R Hickson. 2021. Estimated Breeding Values of Beef Sires Can Predict Performance of Beef-Cross-Dairy Progeny. Frontiers in Genetics. 12: 712715.
Newman, S, A Reverter and DJ Johnston. 2002. Purebred-Crossbred Performance and Genetic Evaluation of Postweaning Growth and Carcass Traits in Bos indicus × Bos taurus Crosses in Australia. Journal of Animal Science. 80(7): 1801-1808.
Pesonen, M, M Honkavaara and AK Huuskonen. 2012. Effect of Breed On Production, Carcass Traits and Meat Quality of Aberdeen Angus, Limousin and Aberdeen Angus×Limousin Bulls Offered a Grass Silage-Grain-Based Diet. Agricultural and Food Science. 21(4): 361–369.
Sharma, SP, S Sapkota, MR Kolachhapati, NA Gorkhali, N Bhattarai and S Upadhayay. 2020. Review on the Association of Birth Weight of Crossbred Calf for Dystocia. Journal of the Institute of Agriculture and Animal Science. 36: 291-298.
Tweedie, M, JA Archer and LE Proctor. 2019. Demonstrating Breedplan Estimated Breeding Values in New Zealand Commercial Beef Herds. Proceedings of the 23rd Biennial Conference Association for the Advancement of Animal Breeding and Genetics: 532-535. October 27th – November 1st. Armidale.
Vankan, DM, DR Waine and MRS Fortes. 2010. Real-Time PCR Genotyping and Frequency of the Myostatin F94L Mutation in Beef Cattle Breeds. Animal. 4(4): 530-534.
Widi, TSM, H Udo, K Oldenbroek, IGS Budisatria, E Baliarti and A VanderZijpp. 2021. Designing Genetic Impact Assessment for Crossbreeding with Exotic Beef Breeds in Mixed Farming Systems. Outlook on Agriculture. 50(1): 34-45.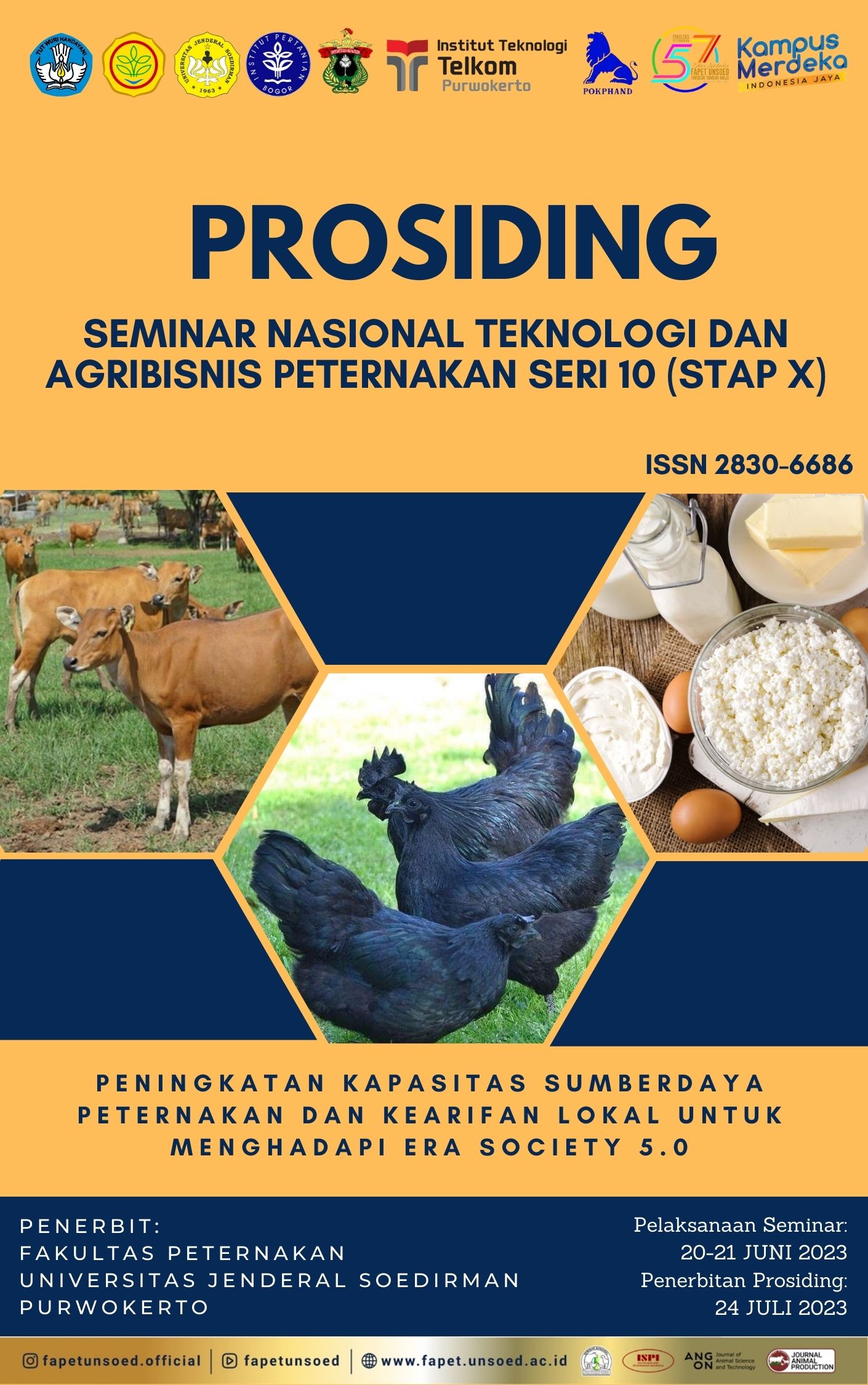 How to Cite
Prihatin, K. (2023). DUA DEKADE SAPI LIMOUSIN DI INDONESIA: PERKEMBANGAN ESTIMASI NILAI PEMULIAAN PEJANTAN DAN INFORMASI GENOTIP TERKINI PEJANTAN SAPI LIMOUSIN DI BBIB SINGOSARI. PROSIDING SEMINAR NASIONAL TEKNOLOGI AGRIBISNIS PETERNAKAN (STAP), 10, 8-13. Retrieved from https://jnp.fapet.unsoed.ac.id/index.php/psv/article/view/2209